Sandblasting / Etching
Sandblasting is the act of propelling very fine particles of an abrasive material
at high velocity toward a surface in order to decorate or engrave it.
This is a sampling of some of the items that Ken has sandblasted here at Herbs and Heirlooms.
Some items are one of a kind, others are stock items.
Be sure and checkout Ken's work the next time you visit us.
Thursday, Friday & Saturday 11 AM to 5 PM Indiana time.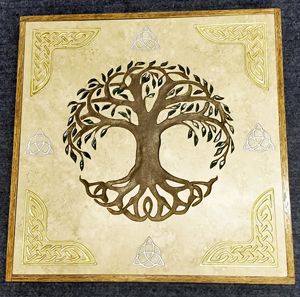 Indiana Sandstone

The dark color in some of the stones is due to iron ore.
Sandblasted Semi-Precious Crystals
Sandblasted Tiles

Porcelain, Ceramic, Slate, & Marble Are Some of The Tiles I Use.
Sandblasted Glass
Sandblasted Repurposed Items
Sandblasted Coffee Cups
Sandblasted Mirrors
Sandblasted Backlit Mirror Boxes