Strange how a teapot can represent at the same time the comforts of solitude and the pleasures of company.
Author Unknown
HERBS & HEIRLOOMS, INC.
1709 So. 4th St. Terre Haute, IN 47802
Serving The Wabash Valley From
Terre Haute, Indiana Since 1994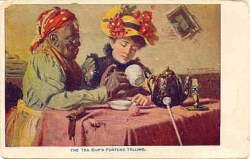 Vintage Postcard circa 1903
Entitled "The Tea Cup's Fortune Telling"