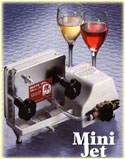 Motorized Wine Filter
Designed with the small quantity wine maker in mind. Compact enough to filter anywhere. Built in pump and motor, operates on 3 filter pads. Incorporated drip tray and drainage tube for convenience. Wine is always crystal clear!
$279.95

Filter Pads for Motorized Filter (Set of 3)
Available in different micron ratings.
Coarse
5 micron rating
$4.95
Sterile
1.8 micron rating
$4.95
Super Sterile
0.5 micron rating
$4.95
(The smaller the number, the finer the filtration.)

Pressurized Filter Pads (Set of 2)
Available in Different Micron Ratings
Coarse
micron rating of 2 - 7
$5.95
Medium
micron rating of 1 - 4
$5.95
Sterile
micron rating of 0.4 - 0.6
$5.95
(The smaller the number, the finer the filtration.)