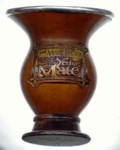 This hollowed out gourd is the traditional vessel used for the preparation and drinking of Mate'.
Yerba Mate Gourds and Bombillas
Yerba Maté has more antioxidants than green tea for fending off free radicals. It offers calm energy from caffeine, theobromine (the euphoric stimulant in dark chocolate) and theophylline (the soothing stimulant in tea), which provide a sustained boost without a crash.
Yerba Mate' is an amazingly healthy herb, sought after for its difficult to find nutrients: Vitamins B-1, B-2, riboflavin, carotene, colin, pantothenic acid, inositol and 15 amino acids. It also contains significant quantities of the all important iron, potassium and magnesium minerals, something green tea lacks.
Some of the stated benefits of Yerba Mate' are:
Increased mental focus, increased energy, reduces hunger cravings, relaxes muscles, relieves allergies, improves your mood, burns more calories, improves sleep, benefits the digestive tract, boosts the immune system, is a good detoxifier, may reduce some health risks of diabetes and hypoglycemia, possibly reduces some heart problems, a stroke and some cancers.

Recent studies from the U.S. indicate that polyphenols are powerful antioxidants that strengthen the organism´s natural defenses, and protect it against the cellular destruction that cause physical deterioration and the development of sicknesses.(J. Carper 1988).

Yerba Mate' is loaded with polyphenols!