Finding Us - Our Location & Map
HERBS & HEIRLOOMS and HOMEBREW too! is located
one block east of Highway 41 (3rd Street) and 3 buildings south of Hulman St. on South 4th St. in Terre Haute, Indiana in a house that was built in 1890. We have over 1500 square feet of sales floor stocking a full range of herbal products,beer and wine making supplies, newage and metaphysical items, crystals and gemstones and more.
We are 1/2 block south of the Farrington Grove historical district.
It is hard to miss us. Just look for our big green awning and a yard full of flowers and herbs, no grass.
South 4th St. does not go all the way through Terre Haute, so the easiest way to get to our store is to take 7th Street to Hulman or 3rd Street (Highway 41) to Hulman.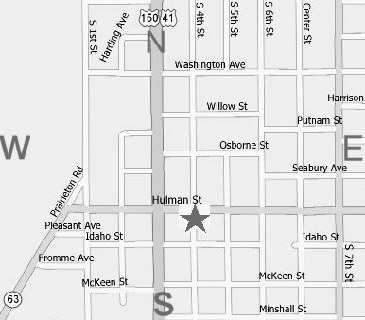 Cross Street is Hulman St. We are 3 buildings south of Hulman St. on the west side of 4th St.
Just look for a big green awning that extends from the building to the side walk. That's Us!
Terre Haute Urban Pathway & Bike Path
HERBS & HEIRLOOMS and HOMEBREW too! is located 3 buildings south of the Urban Pathway & Bike Lane
at the corner of 4th & Hulman St. (Look for our green awning.)
The bike path runs along the south side of Hulman St. and turns north on 4th street on the west side.
It connects to the Heritage Trail which goes through ISU's Campus.