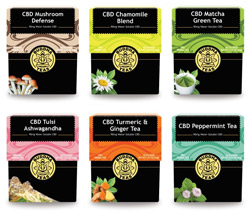 CBD Chamomile Tea:
The power of teamwork is at play with this remarkable blend. Using organic herbs, we've combined chamomile, lemon balm, and lavender with our water-soluble CBD, and the result is, we think you'll agree, a perfect cup of tea.
CBD Matcha Tea:
Perhaps the silkiest, most enjoyable green tea you'll ever taste, our CBD Matcha Green Tea delicately nurtures your body and mind. Provides a caffeine boost without the jitters.
CBD Peppermint Tea:
Always refreshing, never dull, our CBD Peppermint Tea provides a cooling, invigorating cup of tea that additionally delivers water-soluble CBD, making this blend an all-time favorite.
CBD Turmeric Ginger Tea:
Perhaps trendy, always stunning, Turmeric Ginger Tea provides the healing power of curcumin, with warming and stimulating ginger. Assisted with black peeper for optimum bioavailability, this popular water-soluble CBD blend is a definite winner.
CBD Mushroom Defense:
This superior CBD blend contains four powerful medicinal mushrooms: chaga, reishi, lion's mane, and cordyceps, providing a balanced, nutrient dense tea to enjoy any time of day. To ensure this blends tastes amazing we also added rooibos, spearmint, anise, lemongrass, and ginger.
CBD Tulsi Ashwagandha:
Adaptogenic herbs support the body's ability to accommodate physical and emotional stresses. In the Ayurvedic tradition, Tulsi, or Holy Basil, is considered a premier adaptogen, boasting anti-inflammatory, and antioxidant properties. Ashwagandha is another adaptogenic powerhouse, providing increased energy during the day, and sleep assistance at night.
All six varieties of Buddha CBD Teas have been tested to contain zero percent THC.