HERBS & HEIRLOOMS and HOMEBREW too!

1709 So. 4th St. Terre Haute, IN 47802




The Wabash Valley's Largest Herb, Vitamin & Mineral, Tea,
Beer & Wine Making, New Age & Metaphysical, Spirituality,
Crystal, Gemstone & Essential Oil Emporium.
Located in Terre Haute, Indiana
On the Banks of the Wabash River
Since 1994.
Back To Spice Page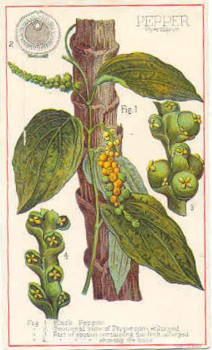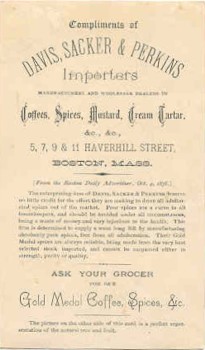 Trade Card of a Pepper Plant
(Piper nigrum)
Compliments of Davis, Sacker & Perkins Importers
of Coffee, Spices, Mustard & Cream Tartar
5, 7, 9 & 11 Haverhill St. Boston, MA
circa. 1890

Trade cards are small cards that businesses would distribute to clients and potential customers.
These cards were the preferred advertising medium for merchants in the 1800s and were given away to promote businesses and products.
In its original sense, the "trade" in trade card refers to its use by the proprietor of a business to announce his trade, or line of business.