Brewer's Best Ingredient Kits




Our private brand of all malt kits are designed for the beginner yet challenging enough for the intermediate brewer. All recipes confirm to AHA Style Guidelines and include all the ingredients with proven recipes to produce prize winning beers. Each kit contains the following as required per recipe.




* Malt Syrup * Hops * Brewing Additives * Bottle Caps * Grains * Dry Malt * Yeast *

* Priming Sugar * Instructions *




Makes 5 gallons, approx 2 cases of beer.



Description
ENGLISH PALE ALE
A classic English style that yields medium-high bitterness above a foundation of caramel maltiness. Hop character is derived from heavy bittering addition. This is a well-balanced, drinkable Special Bitter.
AMERICAN AMBER
Pale ale malt combined with medium caramel malt create a rich, copper color. Bitterness is balanced to match the malt character. Smooth clean finish with moderate carbonation level.
CONTINENTAL PILSNER
One of the world's classic beer styles, this recipe is best enjoyed when lagered. Pilsner malt extract produces a straw color. A dry beer that finishes with ample hop bitterness. This kit includes a lager yeast that will also perform well if fermented at ale temperatures.
RED ALE
A medium-light bodied ale with a deep red hue. Our Red Ale is smooth and easy drinking. Nice balance of caramel malts and specialty grains. Low hop bitterness.
AMERICAN CREAM ALE
An ale version of the American lager style. Clean, light and simple to brew. Faint malt notes with a hint of corn-like presence. An easy drinker.
AMERICAN PALE ALE
Perhaps the most widely brewed American style ale. Moderately strong hop aroma and bitterness. Pale ale malt base provides deep gold, almost amber, color and medium-bodied mouthfeel.
ENGLISH BROWN ALE
This medium-bodied brew has a malty character surrounded by a nutty aroma. Crystal malts with a touch of chocolate malt create the brown color balanced by a subdued hop flavor.
AMERICAN LIGHT
This recipe uses the traditional combination of pilsner malt, rice and corn adjuncts. It is light-bodied, refreshing and thirst quenching. A very easy recipe to brew and an excellent entry to craft brewing.
IRISH STOUT
A dark, roasty, creamy ale. Although nearly black in color, this beer is medium-bodied and finishes dry from the roasted barley addition. Maltodextrin creates a thick, long-lasting head.
GERMAN OKTOBERFEST
Amber in color with a nice blend of Munich malt and crystal grains. Medium-bodied, malty and finished with a distinct hop flavor. This kit includes a lager yeast that will also perform well if fermented at ale temperatures.
DUNKELWEIZEN
Munich and chocolate malts combine to create a darker, maltier version of its lighter counterpart, Hefeweizen. Amber-brown in color yet medium-bodied with a slightly sweet, bready flavor. A specialty wheat yeast produces the characteristic phenols found in traditional Weizens.
WEIZENBIER
Wheat malt and European hops create the recipe for this easy-drinking summertime classic. Light-bodied with a smooth finish, our Weizenbier features an authentic dry wheat yeast.
ROBUST PORTER
A classic dark ale featuring chocolate and de-bittered black specialty grains. A nice, hoppy character is balanced well against this roasty, full-bodied beer.
INDIA PALE ALE
We use plenty of hops to accent this popular style. From the bittering to the flavoring to the aroma hops, we create the perfect balance for this clean, crisp pale ale.
SCOTTISH ALE
Our Scottish Ale is full of caramel malts, both in the extract and specialty grains. Chocolate malt, roasted barley and a touch of smoked malt bring this full-bodied, malty ale to completion.
Dry Malt Extract

Most are available in 1 lb. and 3 lb. Bags

Extra Light - great for all beer styles. Adds extra body and richness. Especially useful when brewing American Style Beers and Light Lagers.




Golden Light - 100% pure malted barley extract. Gold to amber color

Subtle malty flavor.




Light - great for all beer styles. Adds extra body and richness. Especially useful when brewing lighter beers such as lagers and pilsners.




Pilsen Light - 100% pure malted barley extract. Light golden color

Subtle malty flavor.




Amber - rich malt flavour, ideal for bitters. Boosts the beers' natural body and results in a more rounded, mellow note to the final brew.




Dark - a superb addition to any Stout, Porter or Brown Ale. Dark Spraymalt will improve the body, adding extra rich malt flavour and natural colour.

Wheat - great for all traditional wheat beer styles. Adds extra body and richness and aids in head retention in normal beer styles.

Bavarian Wheat - 65% Wheat / 35% Barley. Gold to amber color

Sweet malty wheat flavor.



Brewing & Priming Sugar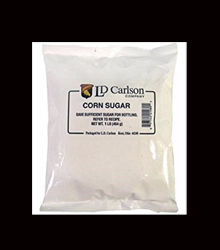 Corn Sugar is the most commonly used sugar in beer making. Refined from corn, it is aka as dextrose. Corn sugar lightens the body and flavor of beer and increases the alcohol content.
Priming Sugar 5 oz. The addition of corn sugar at bottling time gives beer the fizz (carbonation) it needs. Each package is sufficent for 5 gallons of beer.
Bulk Corn Sugar - Packaged in 1lb. and 4lb. quantities.
Brewer's Best Conditioning Tablets

Approx. 250 tablets.Use between 3 & 5 tablets per 12 oz. bottle.



Grains
Packaged in One Pound Quantities
For all grain brewers we keep in stock 10 lb. bags of 2 row malt.
Flaked Grains aka Adjuncts
All of our flakes are pregelatinized, which enables the brewer to produce an unlimitedvariety of beer styles without using a cereal cooker.
Packaged in 1 lb. quantities.
Produces lighter color in the final beer without lowering the final gravity.
Popular in the production of pre-prohibition pilsners. Adds subtle sweetness.
Provides more fermentables without increasing body and flavor.
Used in producing oatmeal stout.
Adds a crisp and slightly spicy character.
Contributes less color than wheat malt and increases foam and head retention.
Brewing Yeast


Each yeast packet will ferment up to a 6 gallon batch of beer.

Lallemand

Belle Saison Ale Yeast (11 grams)

For the first time in brewing history, the complexity of Saison beer meets the simplicity and reliability of brewing with dry yeast. Belle Saison is the classic Belgian Saison strain, giving brewers the ability to create Saison and "Farmhouse" style ales that offer a host of complex characteristics associated with these intriguing styles. Belle Saison is meant to be fermented at warm temperatures (around 90ºF/32ºC) toward developing a unique combination of esters and aromatic characteristics that typify the best of these styles. As with Lallemand's other dry yeast varieties, Belle Saison offers unequaled fermentation performance, allowing you to create award-winning beers time and time again.

Danstar Lallemand BRY-97 Americn West Coast Ale Yeast (11 grams)

BRY-97 American West Coast Yeast was selected from the Siebel Institute Culture Collection and is used by a number of commercial breweries to produce different types of ale. The propagation and drying process have been specifically designed to deliver high quality beer yeast that can be used simply and with reliability to help produce ales of the finest quality. Quick start and vigorous fermentation, which can be completed in 4 days. Medium to high attenuation, The aroma is slightly estery, almost neutral and does not display malodours when properly handled.

Danstar Nottingham Ale (11 grams)

A highly flocculent (beer clears readily) and relatively full attenuation (transforming most of the sugar into alcohol) yeast. It is neutral for an ale yeast, allowing the full natural flavor of malt to develop. Good tolerance to low fermentation temperatures, (as low as 57°F), allow this strain to brew lager-style beer.

Danstar Lallemand Windsor Yeast (11 grams)

Brewers wanting to create authentic English-style ales choose Danstar Windsor yeast to bring out the right characteristics from their beer. Windsor ale yeast is a true English strain that produces a beer which is estery to both palate and nose with a slight fresh yeasty flavor. Beers created with Windsor are usually described as full-bodied, fruity English ales. Brewers choose Windsor to produce beers that range from pale ale to porter with moderate alcohol levels and the flavor & aroma characteristics of the best traditional ales. Depending on the composition of the recipe, Windsor demonstrates moderate attenuation which will leave a relatively high gravity (density).

Danstar Munich German Wheat Yeast (11 grams)

Quick start and vigorous fermentation, which can be completed in 4 days above 17°C. Medium to high attenuation. Munich is a non flocculent strain. Aroma is estery to both palate and nose with typical banana notes. Munich yeast has found widespread use in the production of German Weizen and Hefeweizen. Munich yeast is best used at traditional ale temperatures.

Fermentis Brewers Yeast

11.5 Grams

SAFALE S-04 DRY ENGLISH ALE YEAST

English ale yeast for the production of a large range of ales. Fast fermentation. Sedimentation: high. Final gravity: medium. Temperature range: 15°C - 24°C (59°F - 75°F).

SAFALE US-05 DRY AMERICAN ALE YEAST

American ale yeast producing well balanced beers with a very clear crisp end palate. Sedimentation: medium. Final gravity: low to medium. Temperature range: 15°C - 24°C (59°F - 75°F).

SAFLAGER WB-06 DRY WHEAT BEER YEAST

A specialty yeast selected for wheat beer fermentation. The yeast produces subtle ester and phenol flavor notes typical of wheat beers. Sedimentation: low. Final gravity: high. Temperature range: 15°C - 24°C (59°F - 75°F).

SAFLAGER S-23 DRY LAGER YEAST

Genuine bottom fermenting commercial yeast for lager and pilsner beers production. Sedimentation: high. Final gravity: medium. Temperature range: 11°C - 24°C (51°F - 75°F), ideally ( 11°C - 15°C (51°F - 59°F).

Munton's

Munton's Ale Yeast (6 grams)

Clean well balanced, hardy ale yeast that will tolerate a wide variety of temperature variations during fermentation. Medium attenuation will leave moderately dry finish. Good flocculation.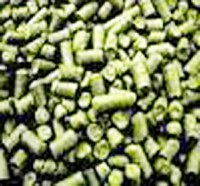 Pelletized Hops

Hops are packaged in a light resistant, nitrogen flushed N2 HopPack™ to minimize oxidation and are stored under refrigeration. 1 ounce per package.
A. A. U. listed below are approximate.
A. A. U. varies with each batch and will be stated on each package.
Amarillo (USA) 8.2% A.A.U.
Relatively new hop that was discovered as a mutation by a grower. Used for general kettle and aroma. American style Ales.
Cascade (USA) 6.3% A.A.U.
Derived from a cross between Fuggles and the Russian hop Serebrianker. Good for flavor and aroma, but an acceptable bittering hop. Ales and Lagers.`
Centennial (USA) 9.5% A.A.U.
Selected from a cross between Brewer's Gold and a selected USDA male. Medium intensity aroma with floral and citrus tones. Very balanced hop, used for all U.S. Ale styles, including U.S. Wheat beer.
Chinook (USA) 11.4% A.A.U.
A cross between Petham Golding and USDA Select Male with a mild to medium heavy spicy, distinct piney aroma. Strong bittering ability. Used for all American lagers and ales.
Citra (USA) 12.1% A.A.U.
A new, moderately-high acid cross between Hallertau Mittelfreuh, U.S. Tettnanger, Bavarian, Brewers Gold and E.K. Golding. Very fruity. Used in Sierra Nevada Torpedo IPA and strong American and Belgian ales.
Cluster (USA 7.9% A.A.U.
Excellent general purpose hop with medium and well-balanced bittering potential and no undesirable aroma properties. Good for dark beers. Used for bittering light and dark lagers. Good flavor.
Fuggle (USA) 4.5% A.A.U.
Traditional aroma hop, appeared in 1875 England. Also known overseas as Styrian Golding. Used for finishing, dry hopping. English Ales, especially Pale Ales, Porters and Stouts.
Hallertau (Germany) 3.9% A.A.U.
Traditionally a superior German aroma hop. Excellent flavor. Mild to semi-strong aroma, versatile bittering and finishing. Used for Wheats, Altbiers, Pilsners, Belgian Ales, American and German Lagers.
Golding (UK) 7.2% A.A.U.
Traditional Old English hop. Developed by clonal selection from 1790 on starting from Canterbury Whitebine. Classic English ale hop used for kettle hopping and dry hopping. All English Style Ales, ESB Bitters.
Mt. Hood (USA) 5.2% A.A.U.
Aroma variety with similarities to the German Hallertau and Hersbrucker varieties, released in the US in 1989. Used for aroma and flavor, American and German Ales/Lagers.
Northern Brewer (Germany/USA) 9.2% A.A.U.
A true dual-purpose hop containing moderate amounts of alpha acids combined with an acceptable aroma profile. Good for bittering with strong flavors and very fragrant. Steam Beers, Dark English Ales, and German Lagers
Saaz (Czech) 3.4% A.A.U.
Classical noble aroma hop with long and strong traditions. Associated with the renowned Pilsener Lager. Used for finishing. Bohemian-style Beers, Continental Lagers, Wheats, Pilsner Lagers.
Simcoe (USA) 12.2% A.A.U.
A dual-purpose, unique American hybrid. Although it is primarily a bittering hop, it has a clean, pine-like aroma and flavoring with a slight hint of citrus. It is less astringent than other pine-like hops and has been highly sought after to make distinctive and unique Pale Ales.
Tettnang (Germany/USA) 4.7% A.A.U.
Commercially grown in the U.S. since the 1980's. Similar to Fuggle. A very popular hop with the craft-brewery industry. Used for Lagers, U.S. Ales, Pilsners, U.S. Wheats and Bitters.
Willamette (USA) 4.1% A.A.U.
A quality aroma hop with a smooth soft flavor. Can be used for ales and lagers. Used for finishing, dry hopping. American and British Ales.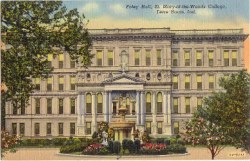 Vintage Postcard of Foley Hall at St. Mary of the Woods College.