Angels
Lead Free Fine Pewter Pendants
This is a partial listing of our lead free pewter jewelry. Many of the items at Herbs and Heirlooms are unique and are of limited availability. Our inventory of jewelry is constantly changing, so be sure and come into the store for the best selection and to see what's new.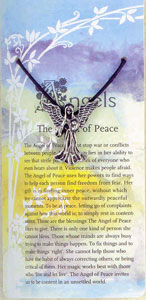 Pendants come attached to a legend card
with a 33" long cord.

Angel of Hope 101
Angel of Love 102


Although The Angel of Love blesses and protects all loving connections, she has a special feeling towards the love that exists between parents and children, and the love that exists between lovers. She glorifies sensuality and tenderness. Her blessings are always available, with examples in the tender touch of lovers, and in the eyes of infants. 1 5/8" height X 11/16" width.
Angel of Miracles 103


The Angel of Miracles works through our own power to create our own realities. She can only help manifest the miracles you feel are possible. She can only remind you that the Lord helps those who helps themselves, and that you are the greatest power in your world. The most powerful miracles, like making things appear out of thin air, are not the highest miracles for her. She prefers the simpler ones, like getting what you need when you need it the most. New jobs, romances, and letting go of old habits that seem impossible to shake off; these are the miracles she delights in. The Angel of Miracles uses our own intentions to make her magic. Her work is so subtle that wre often do not see the miraculous in our lives. 7/8" height X 5/8" width.

Angel of Compassion 104


The Angel of Compassion evokes our own tenderness and mercy. She need not use her own power, for she knows that there is a deep well of compassion in each person. She allows us to see that we are deserving of the compassion of others, and that we can be compassionate with others. The power of compassion manifests through healing, teaching, nurturing and taking care of others. The Angel of Compassion knows that each living thing wants to remain alive, and to be free from suffering. Children and the young at heart are the ones who evoke her easiest, for when the pains are gone, and compassion isn't needed anymore, her thoughts turn to playfulness, and the simple enjoyment of life without pain. 1 1/16" height X 1/2" width.
Angel of Friendship 105


The Angel of Friendship helps us to stay open to other people. All people have the same concerns and needs. We all seek to avoid pain, and to enjoy life's gifts. Each person has so much in common with others that there is always the chance to make friends. Each person is the unmet friend to her, and she loves to push us towards connecting with others. The Angel of Friendship works with a very simple magic. She just reminds people, in subtle ways, that they don't want to be afraid of others. She helps us, not to "see past the differences", but not to see them at all. When friendship happens, she tries to bring in a sense of play and generosity. Without her blessing, all the other riches life offers lose their value. 15/16" height X 9/16" width.

Angel of Giving 106


The Angel of Giving helps us to flow with the others in our lives by reminding us to pass along our wealth. A birthday gift for a child, money in times of need, food for the hungry, and drink for the thirsty. The Angel of Giving is an Angel of Community, for each time we give a gift to a person, we're telling them they are part of our community; that we are affected by how they feel and what they say. 1 3/8" height X 3/8" width.

Angel of Peace 107


The Angel of Peace cannot stop war or conflicts between people. Her wisdom lies in her ability to see that strife pollutes the lives of everyone who even hears about it. Violence makes people afraid. The Angel of Peace uses her powers to find ways to help each person find freedom from fear. Her gift is in finding inner peace, without which we cannot appreciate the outwardly peaceful moments. Her magic works best with those who "live and let live". The Angel of Peace invites us to be content in an unsettled world. 1 1/16" height X 1 " width.

Angel of Prosperity 108
Angel of Wisdom 109

Angel of Guidance 110
Angel of Harmony 111


The Angel of Harmony whispers to us to be at peace with those around us, and to find as much love and community as we can. Her blessing is the one that helps a person forget a bad mood, so as to enjoy the company of others. The harmony that happens when people gather together with open hearts is the music of the spheres to her. 1 1/8" height X 11/16" width.

Angel of Healing 112